How to Make Freeze Dried Chili, Paleo
Are you ready to start preparing meals for your freeze dryer. I made a huge batch of chili this week. We enjoyed eating the prepared chili for a few days, then I put the rest in the freeze dryer.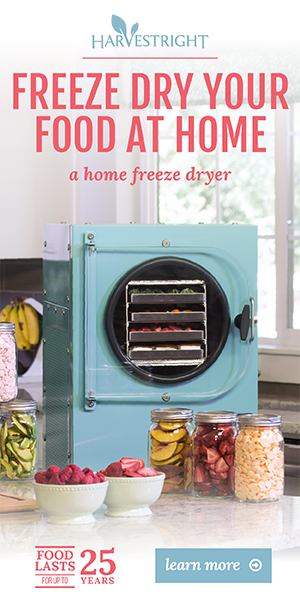 Freeze drying perfectly preserves all your favorite foods with very little effort.
This will go into our home food supply. Unlike canning or any other food preservation method, freeze dried food is tastier, healthier, and more diverse.
We can get a shelf life of up to 25 years by freeze drying the chili and packaging it in mylar bags with oxygen absorbers.
Recipe for Paleo Chili without beans
Ingredients
4 pounds grass-fed ground beef
3-4 chopped onions
8 cloves garlic, crushed
8 cups canned tomatoes
4.5 tsp Real Salt
1/2 tsp Black Pepper
8 Tbs Chili Powder
(4) – 15 oz cans organic tomato sauce
40 drops Tabasco Sauce or Jalapeno Pepper Hot Sauce
*4 cups water if cooking to consume after cooking. Eliminate water if the chili is being prepared for the freeze dryer.
Instructions
In a big kettle, cook the ground beef, set aside.
Cook the onions in avocado oil until tender.
Add salt, pepper, chili powder. Stir to combine and cook a few minutes.
Add crushed garlic.
Add the remaining ingredients.
Add the cooked ground beef.
Cook for 30 minutes to combine flavors.
Prepare the Chili for the Freeze Dryer
It is best to pre-freeze the chili before putting it in the freeze dryer.
I use 8×8 silicone pans (inner dimension is 7×7).
About 1.5 cups per pan. If you freeze right on the Freeze Drying trays, you can add 4 cups of chili to the tray.
Pre-Freeze Prepared Chili
My freezer space is limited currently. I stacked the filled silicone pans, using a sheet of parchment paper between pans.
Package Freeze Dried Chili in Mylar
Add an Oxygen Absorber
Check out my Freeze Dried Scrambled Egg Recipe Here.
More Freeze Dried Recipes
Paleo Freeze Dried Recipes
Freeze Dried Paleo Recipes
Affiliate links appear in this post.
Recommended